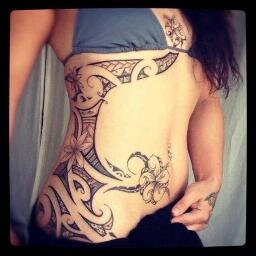 Tattoos do not represent the permanence of an idea. It is only human to make mistakes and there are occasions where people have outgrown their tattoo and now wish to cover their tattoos. The cover-up can vary; it can be for a previous tattoo to a scar or a discoloration on the skin as well. Whatever the reason maybe it is crucial to bear in attention that cover-up only works when the tattoo is darker than what you already have on your skin.
It is easy to cover a lover's name beneath the presence of flora or a lotus that blossoms in your most desired shade. Although the bigger the piece or scar it is the harder it will be to cover-up. When it comes to discoloring tattoos, dark tattoos work well for them and make it easier to conceal any previous ink or shading.
And there are scenarios where the best course of action is to simply get inked completely by the help of an all-black tattoo that showcases negative space. To assist you with that, here are a few expert opinions from tattoo design Inc and several other sources that will assist you with tattoo designs to cover up your scars, old tattoos and discoloration.
Blackout Tattoos
One of the most commonly used tattoo design to cover-up scars and discolorations is a black out tattoo. The tattoo design does not require much details but rather an outline. The painstakingly bold black work does the rest. Once the aftercare and healing is done, the tattoo may or may not require another touchup. And that is to ensure that the color black spreads evenly though out the tattoo. This is to also make sure that previous tattoo underneath the skin gets covered in an effective manner.
High-quality cover-ups do require skill and experience. And it is not one-sided but rather a mutual effort by the artist and the individual getting the tattoo. Blackout tattoos can be customized by adding lighter shades of grey or whites to the design. Which gives it an abstract form and a gradient which completely transforms the previous tattoo design.
With the utilization of negative space, a geometric design can be integrated into an all-black tattoo. This enhances the creativity of the tattoo and gives the tattoo an aesthetic appearance. You can easily say that an anall-black tattoo is the ultimate example of turning an ill situation into a worthwhile one.
Floral Patterns
Another one of the most commonly used tattoo designs for cover-up purposes is flora and fauna. Most people opt for roses and lotus, blooming over their scars and discolorations. Which also represents a positive growth and transformation. Emphasizing the change that they have brought and experienced during a certain period of their life-time. Leading them to a decision where they wish to cover up that specific area with a floral pattern.
There are several different talented artists who understand the intricacy of creating compelling designs and that through natural forms and shapes. This given tattoo design has life changing effects on those getting inked.
Geometrical and Abstract Designs
Geometric and abstract designs are real showstoppers. Not only do they require precision but clarity as well. It all comes down to how well trained and skilled the artist is which allows the design to not only cover up scars and discoloration but to grasp attention. The design majorly focuses on line work as well dot work and shading. With fine details the tattoo design brings out the symmetry and dissipates as the design comes to an end.
Most tattoo enthusiasts prefer to choose this form of freedom of expression, one that presents their individuality in an abstract format. In addition to that, it is the lack of constraints and resistance that allows artists to delve into abstract and geometrical designs; perfectly covering up all traces that one wishes to get past.
The style is profound for cover-ups. Giving you all reasons to go for it if you are considering to cover up your old tattoo or a scar.
To Sum It All Up
The tattoo designs that have been mentioned above are widely used among the tattoo community. Not only do they offer amazing coverage but transform ideas and concepts that we have outgrown or no more feel accustomed to.
Tattooing is a beautiful experience and one should not feel restricted with it. Which gives us more reasons to start new and opt for tattoo designs that can provide us with a new meaning or a new representation that matched our requirements and needs in an adept manner. As long you explore your options you can guarantee that there are many ways to go around cover-ups and you can choose any as far as you can connect with it.